14 Mortgage TikTok Accounts You NEED to Be Following (and Imitating)
Brandon Treadway
·
11 minute read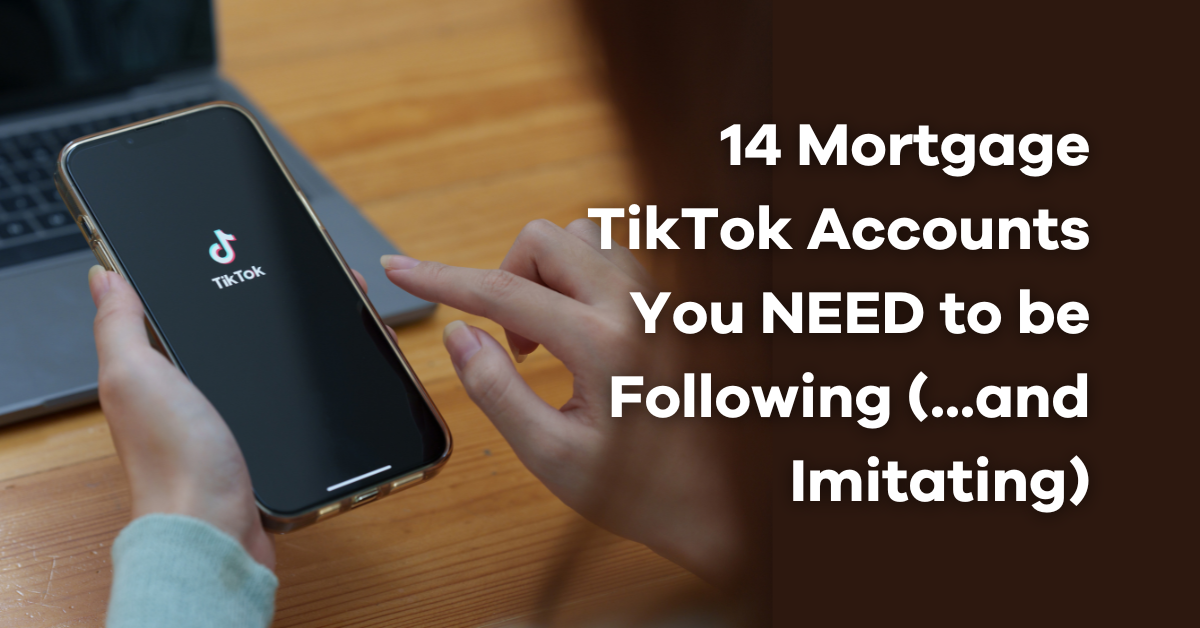 TikTok continues to be the social media platform that simultaneously has the highest potential for loan officers, but seemingly the least amount of adoption. It's a shame because the platform is primed for reaching up-and-coming home buyers and educating them on the process of borrowing and buying.
We've already broken down how to get started on TikTok as a mortgage loan officer, but here we've pulled together some of the best names doing it on TikTok.
In this article, not only do we highlight their accounts for you to follow, but we also break down what they are doing well that can help you to grow your followers on TikTok.
Below you will find 14 of the top mortgage voices on TikTok, along with a high-level look at what their strategy is that has helped them be successful on the platform.
Let's get started!
Rebecca Richardson @the.mortgage.mentor
Rebecca Richardson, a loan officer at UMortgage, prides herself on offering transparent insights in the home buying world that many lenders often overlook. Consistently sharing tips, she educates homebuyers on aspects of mortgage and financial know-how, including guidance on vetting lenders and Realtors.
While her account leans more towards educating borrowers than light-hearted content, it's a testament to how lenders can effectively build their brand on TikTok.
@the.mortgage.mentor TikTok strategy:
Rebecca employs a number of different types of content to reach her audience. Here are some examples:
Home buying tips and tricks, things to know, insider info, etc.
Strategies for the homebuying process
What Does It Cost to Buy? video series

A series of videos breaking down the average cost to buy a home in each state

Mortgage 101 series

A series of videos breaking down mortgage concepts and information

Responds to industry updates with trending audio
Consistency: Rebecca posts about 4x a week on average.

"My goal is to help people have a different expeirence than I had buying my first home. I want them to feel confident in the decisions that they are making because they understand what's going on.

"I'm not trying to turn anybody into subject matter experts. I want them to know enough so that if somebody is hoodwinking them, that they know. It's not about pitches or leads, it's about a conversation."
@themortgage.mentor TikTok example:
Scott Betley @thatmortgageguy
Scott Betley is a Maryland-based LO who runs perhaps the most prolific mortgage-focused account on TikTok. With nearly a million followers, he has leveraged all the right resources in order to grow his account.
His goal is to use his TikTok account to educate his audience about the homebuying process and "expose the secrets of buying a house."
@thatmortgageguy TikTok Strategy:
Educational videos breaking down mortgage concepts
Humorous videos using trending audio

His most-watched videos relate to the pains of the homebuying process

Stitches other creators' content to provide his own take on what they have to offer.
He will stitch creators big and small, from other loan officers to Dave Ramsey.
In some cases he will agree with the creator, and sometimes he will disagree and give his own two cents. Either way, it makes for great educational content.
Consistency: Scott posts about 5-7 times a week.
@thatmortgageguy TikTok Example:
Michael Dufour @yourmortgageguide
Michael Dufour is an accomplished mortgage loan originator active on TikTok for over two years. With his account, Michael analyzes the contrasting home buying experiences of Baby Boomers compared to Millennials and Gen Z, masterfully incorporating trending audios for engagement.
A portion of his TikTok content is also aimed at other loan officers, helping htem to take advantage of TikTok as a platform for lead generation.
@yourmortgageguide TikTok strategy:
Gives examples of client situations that resulted in a successful loan
What Can You Qualify For? video series

Responds to comments from users to let them know what loan they could qualify for with their given income/debt ratio.

Humorous videos using trending audio

Some of his most-watched videos relate to the pains of the homebuying process, particularly for Millennials.
Consistency: Michael posts once every 1-2 days on average.
@yourmortgageguide TikTok example
Mandy Phillips @mortgagemandy
Mandy Phillips utilizes her TikTok platform to dispel mortgage myths and address queries through both videos and comments.

She creatively uses skits in which she takes on dual roles, playing herself and a borrower character named "Karen." This "Karen" character, depicted as uninformed and occasionally brash, frequently demands to see a manager, to which Phillips humorously replies in alignment with her bio, "I am the manager."

Phillips underscores the importance for potential homebuyers to select a knowledgeable loan officer in this ever-evolving market and offers advice on pitfalls to avoid during the pre-approval process.
@mortgagemandy TikTok Strategy:
Mandy employs a number of different types of content to reach her audience. Here are some examples:
Situation-specific mortgage advice

Calls out specific financial situations and offers mortgage advice
She also responds to comments about specific financial situations with reply videos

Situation skits

Shows what you can and can't do in the mortgage process by playing both sides of different mortgage situations
Consistency: Mandy posts about 4-6x a week on average.
"I try to post one skit video a week. Those tend to get the most videos and that's when I tend to grow my follower count a bit. And they are based on a true story or acting out a scenario or question I've had.

...But those aren't the videos that I'm getting business from. Nobody's working with me because I made a silly skit video with a haircut filter. They are working with me because I taught them that made them say 'wow I might be able to actually do this.' It's more valuable and you make better connections when you provide valuable educational content."
@mortgagemandy TikTok example:
The Mortgage Guys @chris_and_lee_mortgage
Talk about doing it right! Chris & Lee Mortgage (or The Mortgage Guys) have only been on TikTok since July 2022, but they have been killing it since they started.
Right from their first TikTok they said their mission was "to teach millennials how to get tf out of their parents house and buy their first home without spending their life savings." Each video is focused on educating with tips and tricks to home buying that millennials can use to achieve the goal of home ownership without going broke in the process.
@chris_and_lee_mortgage TikTok strategy:
Here are the things that The Mortgage Guys are using in their strategy in order to grow their follower count and their business:
Many of their videos feature the social media manager asking either Chris or Lee a question (usually from the comments) and getting their answer.
Uses trending music in the background with low audio levels to improve findability on TikTok
Leverage TikTok lives to discuss larger topics and talk directly with their followers (and they tease these lives in other TikTok videos)
@chris_and_lee_mortgage TikTok example
Jordan Nutter @anutterhomeloan
Similar to other LOs on TikTok, Nutter brings humor to her content. She stands out by dedicating time to create detailed videos on topics like jumbo loans, closing costs, and the impact of cosigned student loans on mortgage approvals.
A lot of her TikToks either respond to questions straight from her comment section or present skits illustrating possible homebuying scenarios.
@anutterhomeloan TikTok Strategy:
Home buying tips and tricks, things to know, insider info, etc.
Strategies for the homebuying process
What Does It Cost to Buy? video series

A series of videos breaking down the average cost to buy a home in each state

Mortgage 101

A series of videos breaking down mortgage concepts and information

Responds to industry updates with trending audio
Consistency: Jordan posts about 4x a week on average.
@anutterhomeloan TikTok example:
Minh Nguyen @whatsamortgage_
Minh Nguyen is a branch manager based out of Orange, CA whose TikTok content is focused around helping his audience understand the housing market. With all of the ups and downs of inflation, hopes for a housing market change and plenty of difficult jargon, Minh makes understanding the market easy.
His content is a mixture of comedy and commentary with a majority of his content analyzing the current state of homebuying and breaking down what home buyers need to know about the market right now using the day's top stories.

@whatsamortgage_ TikTok Strategy:



Industry, inflation and homeowning updates

Tips and tricks for home buying

Stitches news stories and other creators to add context or his own thoughts to those stories

Uses trending audio and video to create humorous homebuying-related content

Strategies for the homebuying process

Consistency: Minh posts about 10x a week on average.
@whatsamortgage_ TikTok example
Nate Fain @themortgagecreator
Nate Fain has been doing short form video all across social media for longer than most. He's a big believer in the format as a marketing tool and has been using it on social media since 2018. So when TikTok started to gain some popularity, Nate was an early adopter; first posting in early 2020.
Since then, he has grown his business tremendously using the platform, gaining over 200k followers and building relationships and business partnerships from his use of the platform.
@themortgagecreator TikTok strategy
Focus on answering the same types of questions that he hears from borrowers every day
Define topics and terms that he knows borrowers -- especially first time homebuyers unfamiliar with the industry -- won't know
Use trending audio and formats to create content that blends mortgage knowledge with humor
Provides tips, hints, and tricks to home buying to make the process easier for borrowers

"Come up with questions that people are wanting to know about. Think: 'what are the questions that I'm getting on a daily basis?' Write them down and you can come up with 10 ideas very easily. Ultimately within those videos you will find something else that will make another good video too.

"Then you'll start getting comments from followers, friends, whoever and now those comments become video topics too. So at a certain point you're just picking and choosing what you want to talk about instead of coming up with a ton of ideas yourself."
@themortgagecreator TikTok example
Eric McLaughlin @ericmclaughlinmortgage
Eric is a mortgage professional based out of Texas whose content is equal parts funny and informational. He tackles the industry updates head-on with weekly mortgage updates and creates plenty of skits that poke fun at the homebuying process and examines the difficulties of purchasing a home.
Most of his videos get thousands of views with some getting millions. His most viral content is a combination of comedic and relevant to the homebuying struggle. Oftentimes he will pull out his phone and record a video seemingly on the fly to discuss a point he was thinking about in the moment.
@ericmclaughlinmortgage TikTok strategy:
Weekly mortgage updates looking at the interest rates on Mortgage News Daily
Industry, inflation and home owning updates
Tips and tricks for home buying and navigating the loan process
Uses trending audio and video to create humorous homebuying-related content
Consistency: Eric posts about 5-7x a week on average
@ericmclaughlinmortgage TikTok example
Chris Mason @californiamortgage
Chris Mason is an independent mortgage broker out of California with over 50k TikTok followers. He has been posting on TikTok since December 2021. He's tried out multiple different ways to present his content but eventually landed on the style that has worked best — just talking to the camera over news videos or articles.
Occasionally he will deliver a funny piece of content or share a personal story, but he almost always finds a way to cleverly tie it back to mortgages or home buying.
@californiamortgage TikTok strategy
"Translations" for the regular person of what Jerome Powell says in his fed updates
Tips and tricks for the home buying process
Gives his opinion to news articles, op-eds and other TikTok creator content
Resurfaces and re-shares TikToks from the previous year to show how things have or haven't changed in that time
Consistency: 3x a week on average
@californiamortgage TikTok example:
Josh Dobson @mortgagedadof3
Josh Dobson has made a great spot on TikTok by explaining a variety of mortgage and homebuying concepts to his audience with his straightforward approach. Usually he covers these topics by speaking directly into the camera and laying out the facts.
Since June 2021, Dobson has been posting to TikTok, originally posting videos of him sitting in a desk answering questions. But now his content has embraced all types of styles and locations.
@mortgagedadof3 TikTok strategy:
Josh employs a number of different types of content to reach her audience. Here are some examples:
Major focus around answering questions and defining industry terms and concepts
He has created numerous different "series" of videos including:

Homebuying 10 Commandments
How to Buy a Home series
Credit tips
Low down mortgages

He also offers up a lot of tips and tricks to the homebuying process described as "mortgage hacks".
Consistency: @mortgagedadof3 posts about 2x a day on average

"The strategy for us on TikTok has been touching on the pain points for the average consumer -- really focusing the messaging on those who feel like they haven't been able to get help before.

We really want to try and push as much information with entertainment as we can."
@mortgagedadof3 TikTok example:
@mortgagedadof3 DO THESE THESE THINGS FIRST!!! Before you go late on your mortgage or any of your obligations, call a loan officer to see if the equity in your home can help reduce your monthly obligations. If this doesn't work, before you are late on your mortgage, call your servicer and let them know you need help. If that doesn't work, contact a realtor because you may be sitting on equity to pay off mortgage and get out of debt. Don't ignore it, don't destroy your credit. You can recover and buy a home again if that is what you want. Check with your State to see if they have a mortgage relief program. California has one. #homeownership #debtconsolidation #refinance #mortgage #debtrelief #loandad3 ♬ original sound - HomeBuying Tips by Josh Dobson
Tori McConnell @virginia_mortgage_lender
Tori McConnell started posting to her TikTok account in April of 2021 when she joined the mortgage industry from the dental industry. Since then, she has consistently posted to her TikTok, educating homebuyers on every step of the home buying process.
Her content ranges from humorous to informative and oftentimes blends the two in entertaining fashion. Much of her content looks at home affordability, pre-approval, and how credit scores can impact approvals.
@virginia_mortgage_lender TikTok strategy
Reviewing home listings to show the affordability and availability of homes in a certain price range
Answering questions around debt, mortgages, credit scores, and more
Educating her audience on what a loan officer does, how they get paid, etc.
Industry news & updates with commentary
Consistency: Mandy posts about 4-5x a week on average.
@virginia_mortgage_lender TikTok example
Todd Mrazek @mortgagewithmrazek
Todd Mrazek and his team have been on TikTok since October 2020 and almost immediately started to see their content perform.
Their content is equal parts humorous and informative with a very good use of trending audio and styles to make the content more sticky.
@mortgagewithmrazek TikTok Strategy
An entire series of Rent vs Own TikToks that show the benefits of home ownership over renting and when each is right for you
Multiple series of TikToks discussing Mortgage Tips, Down Payment Assistance, and Credit
Comedic content that uses trends and audio that help the videos to achieve virality.
Mortgage formation videos with nearly all of the information written out as text with trending audio.
Content about the frustrating situation of homebuying right now, encouraging them and reminding them that they aren't alone in the process.
Consistency: @mortgagewithmrazek posts about 2x a week on average
@mortgagewithmrazek TikTok example
Dakotah Kutz @your.mortgage.mom
Dakotah does an amazing job doing one of the things that we preach here at SocialCoach -- blending your professional and personal life into your content. Her TikTok features videos that cover both the mortgage industry, but also showcase her life at home as a mom.
In 2021, she took the personal TikTok account that she had been posting too for over a year and started to publish content related to her mortgage business as well.
Whether she is explaining mortgage concepts, posing home buyer scenarios and explaining what to do in those situations, or stitching other creators, Dakotah is a good example of blending your content to show the personal side of your business.
@your.mortgage.mom TikTok strategy
Dakotah employs a number of different types of content to reach her audience. Here are some examples:
Blend personal and professional content to build trust and relatability
Stitches and duets other creators to provide her own take on a video
Humor and jokes about the things that borrowers should and shouldn't be doing while borrowing
Content relatable to the current housing market, particularly sympathizing with high interest rates and housing prices
Consistency: @your.mortgage.mom posts about 1-2x a day on average

"On a high level, I would describe my content as relatable Millennial mortgage advice.

I want to attract other people that are in the same boat as me, which is people who are either newly married or new parents trying to invest in real estate with not a bunch of money to start.

I love working with people that are wanting to do the same thing that I've done and aren't starting with much. I like talking to those people that don't know when to start."
@your.mortgage.mom TikTok example
Need to get started on TikTok?
If you are wanting to get started on marketing your mortgage business on TikTok but don't know where to start, SocialCoach can help.
With Video Catalyst, SocialCoach can create you 4 scripts monthly to get you started with creating content for short-form video marketing on TikTok and Instagram.
Click here to learn more about Video Catalyst and how it can help you grow your business on social media.