Mortgage social media compliance made easy
Keep your company and loan officers safe with compliance control software built specifically for the mortgage industry.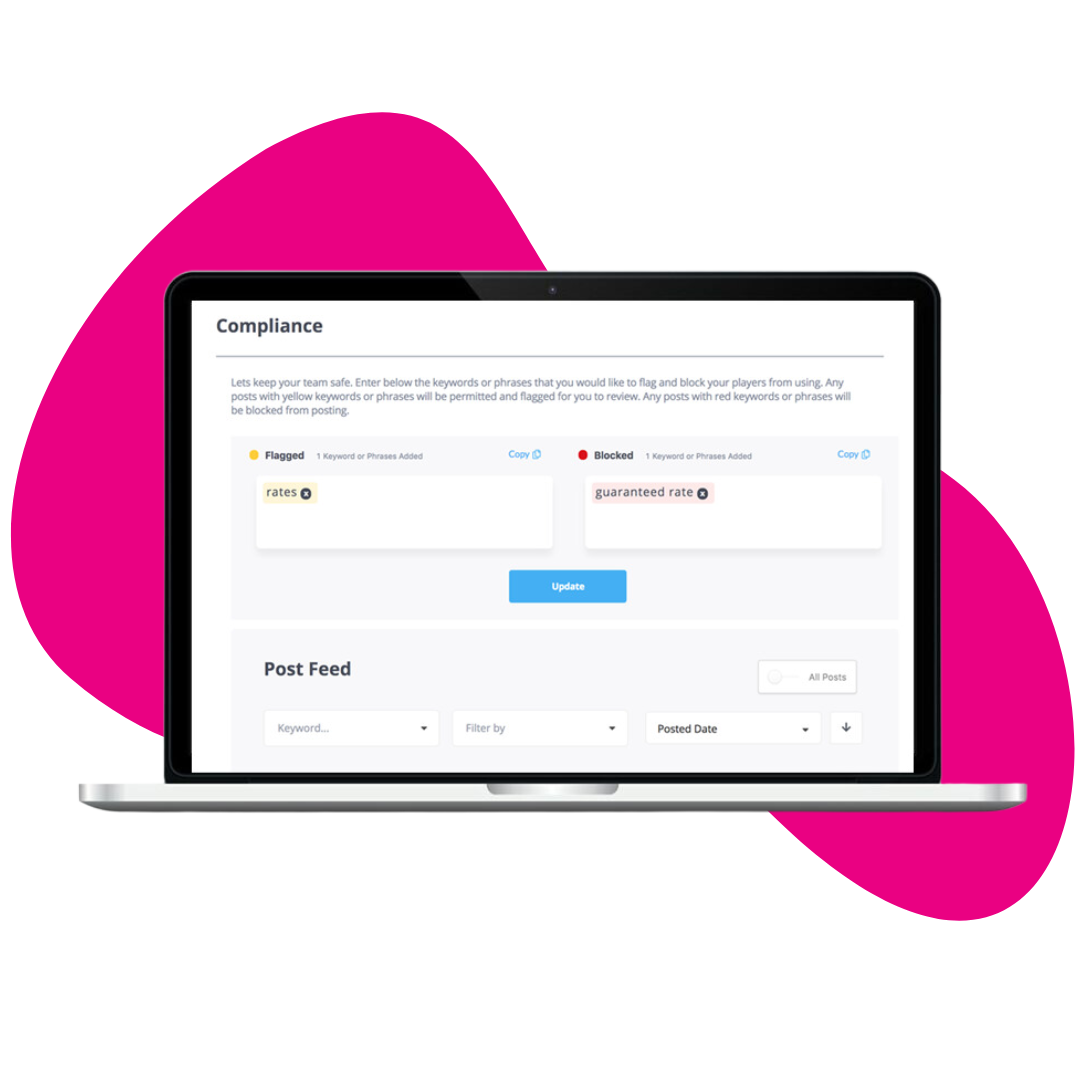 Stay compliant with built-in controls 🙌
Take control over what your loan officers post and easily review all potentially harmful content from one powerful dashboard.
COMPLETE SOCIAL MEDIA COMPLIANCE
Compliant Posts Forever
With SocialCoach, compliance managers set the rules. Win the compliance game before anything ever gets posted.

Make every post compliant in advance with SocialCoach's built-in compliance tool that gives you complete control.
Freedom to post while staying compliant

No more post approving needed

Easily monitor social posts on your timetable
NOW COMPLIANCE IS IN CONTROL
Set the Compliance Rules Ahead of Time
With SocialCoach, compliance managers set the rules.

Keep your loan officers compliant by using SocialCoach's pre-installed compliance rules -- or customize them to fit your needs.
A home for all your content

One-click posting for your team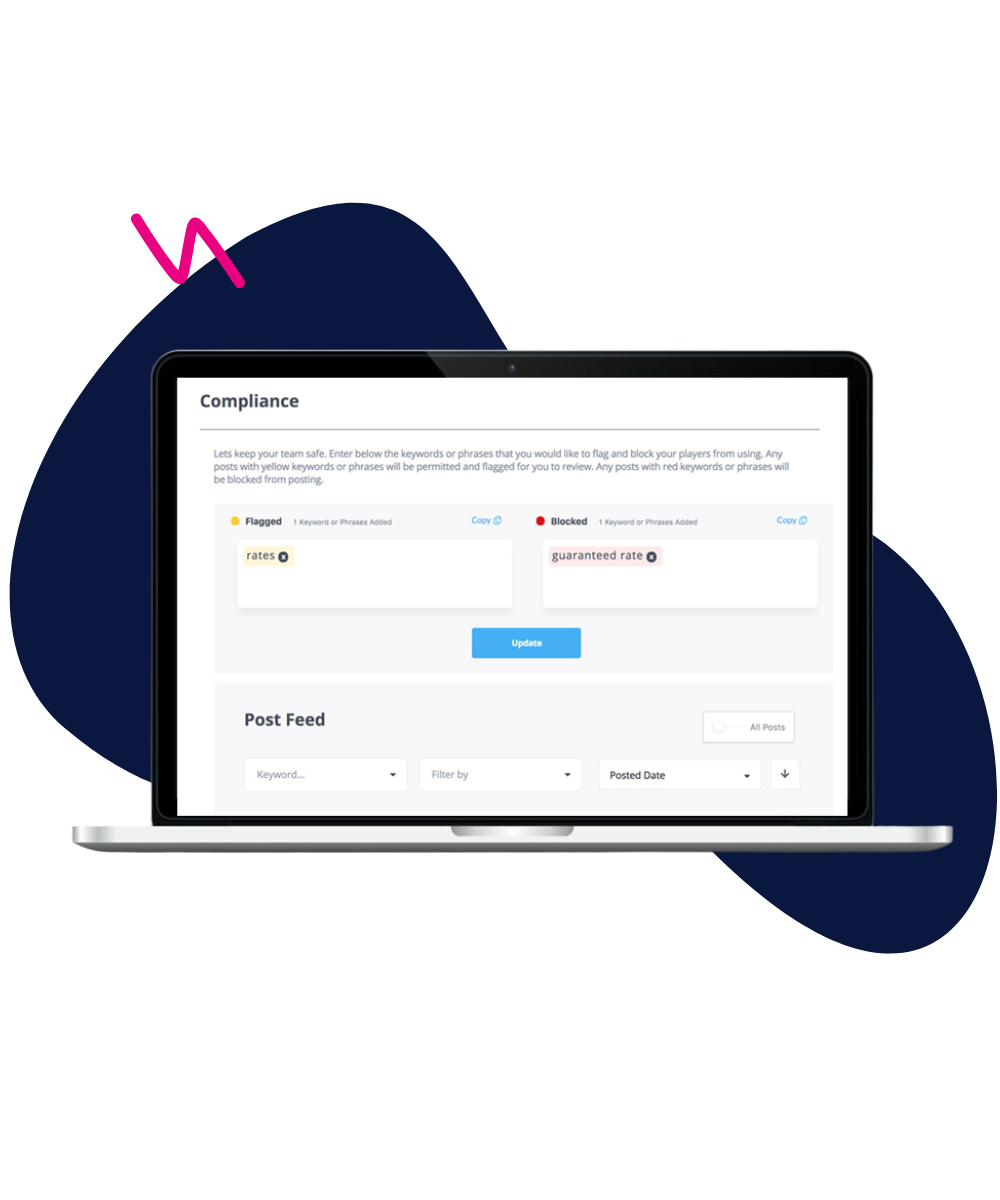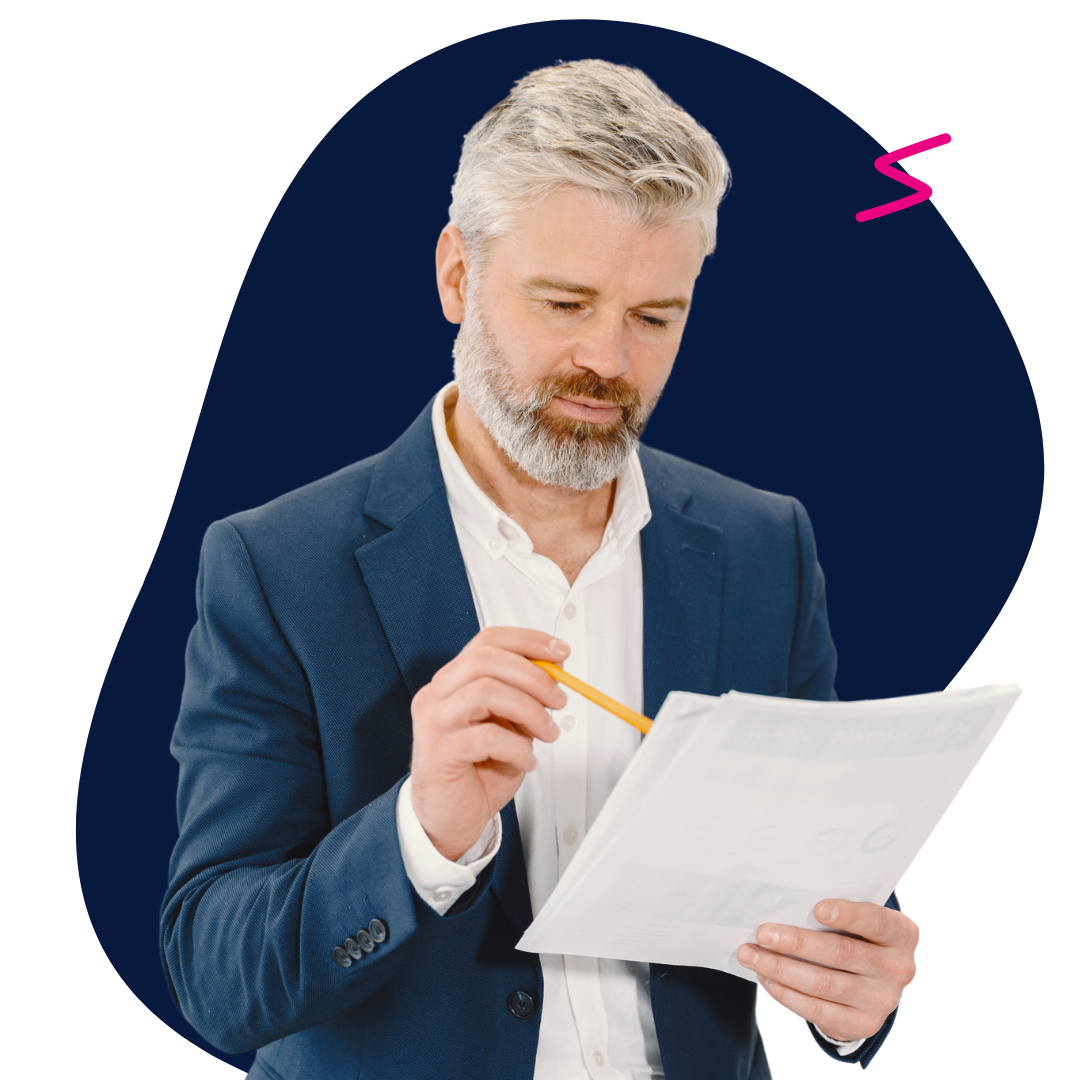 READY FOR ANYTHING
Audit-Ready Reporting at Your Fingertips
SocialCoach tracks every piece of social media advertising -- every post, every revision. No more hours thumbing through social posts.
With SocialCoach you can be assured that should an audit be in your future, you're prepared to show your compliance.
Full history including

change requests & audit trails

Clear & demonstrable compliance process

See any post, from any user, on any platform, at any time

Compliant
Rest easy knowing your social media content is compliant. Add your own compliance parameters or utilize ours.

Customizable
With SocialCoach, you can customize what keywords you want flagged or blocked - providing a simple solution to safe posting.

Powerful
Our technology is built for the mortgage industry and starts with powerful compliance software that protects your company.

Easy
The compliance process doesn't have to be difficult. And with SocialCoach's built-in compliance software, it isn't.
About SocialCoach's Compliance Controls
What is social media compliance?
Social media compliance in the mortgage industry refers to adhering to various federal, state, and industry-specific regulations and guidelines when using social media platforms for business purposes.

Given the highly regulated nature of the mortgage industry, it's crucial for professionals, including loan officers, brokers, and lending institutions, to navigate social media in a way that aligns with legal standards, ethical practices, and consumer protection laws.

How can SocialCoach fit into my mortgage compliance strategy?
Compliance managers have a lot to worry about. So when your loan officers are posting on their social media profiles, depending on the size of your company, that can be daunting to keep up with to ensure compliance.

SocialCoach allows you to set the rules for social media posting ahead of time, preventing your loan officers from posting content that would be deemed non-compliant by banning non-compliant words and phrases and flagging others for review.

SocialCoach effectively eliminates the back-and-forth with marketing by allowing you to create the sandbox that your marketing team and loan officers can operate in. No more approvals, no more requests for deletion. It's all compliant from here on out.

What kind of control does SocialCoach provide to compliance managers?
SocialCoach gives compliance managers and teams the power to keep social media compliant. No matter your compliance needs for each post, SocialCoach offers the customization options to add all the necessary compliance options required of your company.
Are SocialCoach's compliance controls customizable?
SocialCoach's compliance controls are designed to be in your control. They are completely up to you. Restricted terms can be mortgage-specific or not. Just add the terms you want to restrict and let SocialCoach do its thing.
What happens if a post goes live with a Flagged term?
Social media compliance isn't always black and white. Some words may be fine in one context but non-compliant in another.

SocialCoach allows you to flag the words that you see as compliance "gray areas" so you can determine on your own if the context is compliant or not.

Posts with flagged terms or phrases can go live, allowing marketing to publish their marketing materials, but alerts you to check on the specifics and require changes if necessary.


Check out these other great SocialCoach features
Schedule a demo with one of our social media experts

👉