The Easy Guide to TikTok for Mortgage Loan Officers [2023 Edition]
Brandon Treadway
·
9 minute read
If you're a loan officers looking to dive into the world of TikTok, here's a step-by-step guide to post your first video.
What is TikTok?
Chances are that have at least heard of TikTok. Otherwise you probably wouldn't be reading this.
TikTok, the viral social media platform known for its short, catchy videos.
It was already big with Gen-Z, but once the pandemic hit and people were locked in quarantine, the app's adoption exploded.
Videos on the platform range from a few seconds to up to 10 minutes.
One of the marquee aspects of TikTok is its algorithm and its ability to understand a user's interests, both long and short-term interests, and adjust the content that it offers on its "For You Page".
Because of this, content in a user's feed isn't restricted to who they follow and much of their feed comes from outside of the creators they don't follow, but create content TikTok thinks they might be interested in.
What Makes TikTok So Great for Marketing?
When you think of TikTok you might think of dancing videos and goofy "challenges."
While that's a fair initial reading of the platform, the truth is that TikTok is probably one of the most diverse and influential social platforms available today.
Many of the app's features create a proximity between creators and their audiences which not only make it a favorite of its users, but its content creators as well.
As previously mentioned, TikTok's algorithm is incredibly advanced and learns its users' interests quickly, offering them more content that fits those interests, while occasionally testing for other interests.
Because of the way TikTok's algorithm works, it's a great marketing tool in that marketers can create content specific to an interest and users that aren't following your brand can still be served your content.
And that's just organic TikTok. The platform also offers ads to put your brand in front of more eyes.
Should Loan Officers Be Marketing on TikTok?
Absolutely! Without a doubt, loan officers should be on TikTok.
For mortgage loan officers, TikTok can be a great avenue to connect with potential clients and partners, share industry insights, and cultivate an engaged online community.
You can see below some of the mortgage and finance TikTok creators with hundreds of thousands of views on their videos.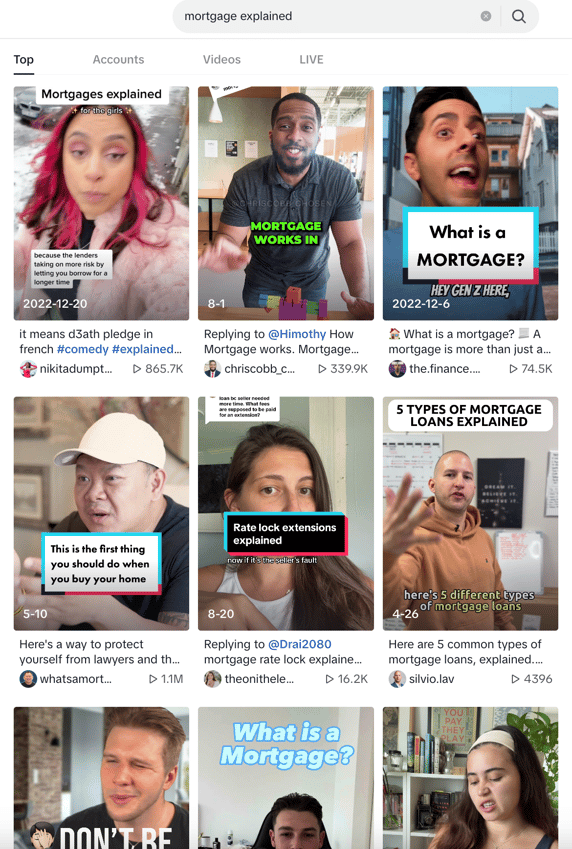 While it is true that the user demographics on TikTok tend to skew younger, it is a very popular platform for all ages groups.
Loan officers who take advantage of the user base demographics on TikTok will find themselves not only creating valuable content for future homebuyers, but also marketing themselves to those at prime home buying age.
Here are some statistics to illustrate just how much attention you can find on TikTok:
App Usage & Engagement:
The average TikTok user uses the app for an average of 95 minutes per day – or 26 hours per month!
It's difficult to give exact numbers, but here is an example of the difference in engagement on the same post but on different platforms:

Last year, Jennifer Lopez posted a video to her TikTok profile (5 million followers) and her Twitter profile (45 million followers).
The video on Twitter got 2 million views while the video on TikTok got 71 million views.

Nearly half of Gen Z uses TikTok's search function instead of Google – according to Google's own data.
According to a report from the Wall Street Journal, users are spending 17.6 million hours per day on Instagram Reels, while TikTok users are currently spending 197.8 million hours per day on TikTok.
User Demographics:
The percentage of U.S.-based TikTok users by age:

Ages 10-19 – 32.5%
Ages 20-29 – 29.5%
Ages 30-39 – 16.4%
Ages 40-49 – 13.9%
Ages 50+ – 7.1%.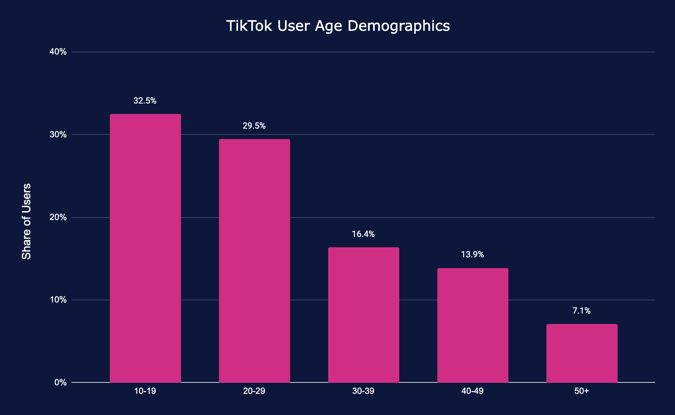 Source: App Ape
Posting Your First TikTok - Step-by-Step Instructions
1. Understand Your Target Audience
Before you even get started, you will want to understand the audience you are targeting.
Are you aiming to reach first-time homebuyers, seasoned property investors, or perhaps a specific age demographic?
A video designed for first-time homebuyers might not appeal to someone investing in property.
Don't try to appeal to everyone with a single video – choose one target audience and make that video specifically for them.
By understanding your audience, you can tailor your content and style to resonate with them.
PRO TIP: Take some time to look at some other mortgage social media accounts to see how those loan officers are creating content.
Who are they creating it for?
Who are they speaking to?
What kinds of topics are they covering?
This will give you a better idea of where other loan officers are seeing as a successful audience to target.
2. Download the App and Create an Account
Start by downloading the TikTok app from your device's app store.
Once installed, sign up using your email or phone number.
For a more professional touch, use a username that's associated with your business or personal brand.
Usernames that reference home loans, mortgages, etc will help people know that the content is coming from an expert and help to build trust.
For example: John Smith Home Loans or Mortgage Coach Susan
Here's a good example of a mortgage-centric TikTok profile: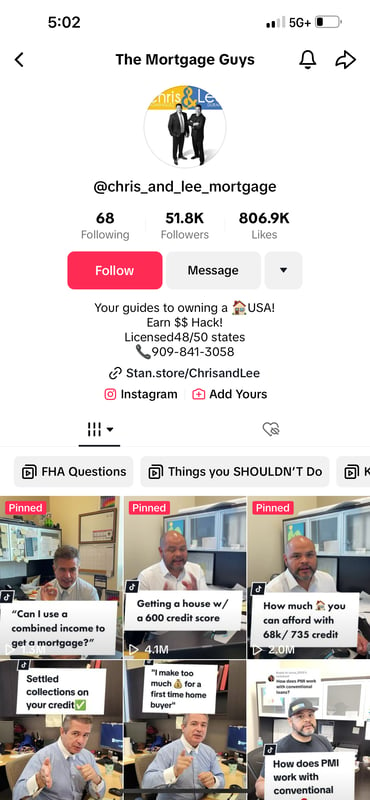 3. Set Up The Rest of Your Profile
Now it's time to set up the rest of your profile.
Profile Picture
For your profile picture, choose a professional photo or a logo for your company.
Bio
Your profile bio should be succinct.
Mention your role as a mortgage loan officer and any other crucial details like your NMLS ID or which states you are states you are licensed to originate in.
Link
TikTok allows for profile bios to include a link.
These links will help users that find your videos and view your profile, to click and go to your website.
SOCIALCOACH PRO TIP:
Instead of simply linking to your website, add a link to a Linktree page, where you can add a number of different links for your audience to engage with.
These might link to your website or other social media profiles.
You might also want to create links to different forms for users to request various services or products from you.
4. Familiarize Yourself with the Platform
Spend time navigating TikTok.
This is good advice for any platform as few things will make you a better marketer on a platform than being a user on that platform.
Watch popular videos, learn the trending songs, and get a sense of the platform's vibe.
Follow other mortgage creators and learn from their content.
Few things will give you a better idea of what will work for your account better than what is working for others.
Watch TikTok to Learn Trends and Successes
The more you watch other mortgage creators on the platform, the better you will understand how they are effectively using the capabilities of the app to their advantage.
Are they using trending audio?
What topics are they covering?
Do they stitch or duet videos from other creators?
Do they do video responses to comments?
It's essential to know the kind of content that works and the styles that gain traction. Plan to utilize them in your own content.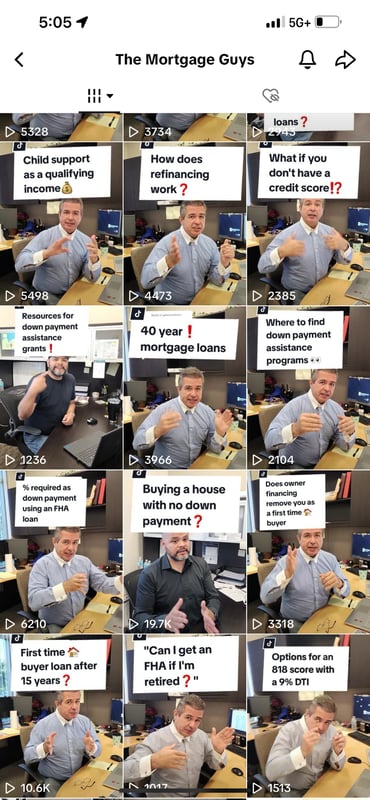 5. Plan Your Content
Mortgage content can range from fun, educational snippets about the loan application process, to FAQs about mortgages, or even showcasing testimonials from happy clients.
Here are some content ideas (with some great examples):
Explainer Videos
Break down mortgage terms and concepts. Your audience, if it comprises new homebuyers, may not have a solid knowledge of the mortgage industry.
Your content can be what helps to bridge their knowledge gaps by explaining these concepts clearly.
Here's an example of an explainer video from @luxliferealtor:
Answer Questions
You may find that some of those that find your videos engage by asking additional questions in the comments.
This is a great opportunity to create some additional content by responding to those comments.
See how TikTok creator, The Mortgage Guy, does this:
Day in the Life
Showcase what your day looks like as a mortgage loan officer. This type of content is a great blend of personal and professional that allows your audience not just to get a better understanding of what you do as a loan officer, but to get to know you a little better.
Things like where you like to get coffee or having to take your dog to the groomer are all relatable moments in a day that can help you connect with your audience.
Like most TikToks these can be serious or humorous. See a (relatable) humorous example below:
Client Stories
With permission, share successful mortgage stories. Stories from your clients are a great way to not only share success stories, but showcase the great experiences others have working with you.
Here's an example of a client testimonial from @jk_mortgage:
@jk_mortgage 🏡🎉 Exciting News from John! 🎉🏡 Just a few days ago, John achieved his dream of becoming a homeowner in beautiful Austin, Texas! 🤩🏠 Watch his heartfelt testimonial about his homebuying journey with Justin at JK Mortgage. From California to Texas, distance couldn't stop John from getting the best mortgage assistance. 🌟 If you're ready for your homeownership journey, call or text us anytime at 949-662-2987. Your dream home could be closer than you think! 📞🏠 #HomeSweetHome #JKMortgageSuccess #ClientTestimonial ♬ original sound - Justin Kautz
Market Updates/Insights
Provide quick updates on mortgage rates or market trends.
The industry is always changing and as someone who not only knows the past and present of the mortgage market, but also has an idea of what the future might hold, your insights can be very popular on the platform.
See how @anutterhomeloans gives their opinion on the market in a TikTok:
6. Creating Your TikTok
Alright now it's time to get started filming your first TikTok.
Getting Started
1. To get started, tap the '+' sign at the bottom of the TikTok display to open Camera mode.
2. To record a video directly into TikTok, select which time frame you'd like to record -- 15 seconds, 60 seconds, or 10 minutes (you don't have to use the full time limit). You can also now take photos or create text posts in TikTok.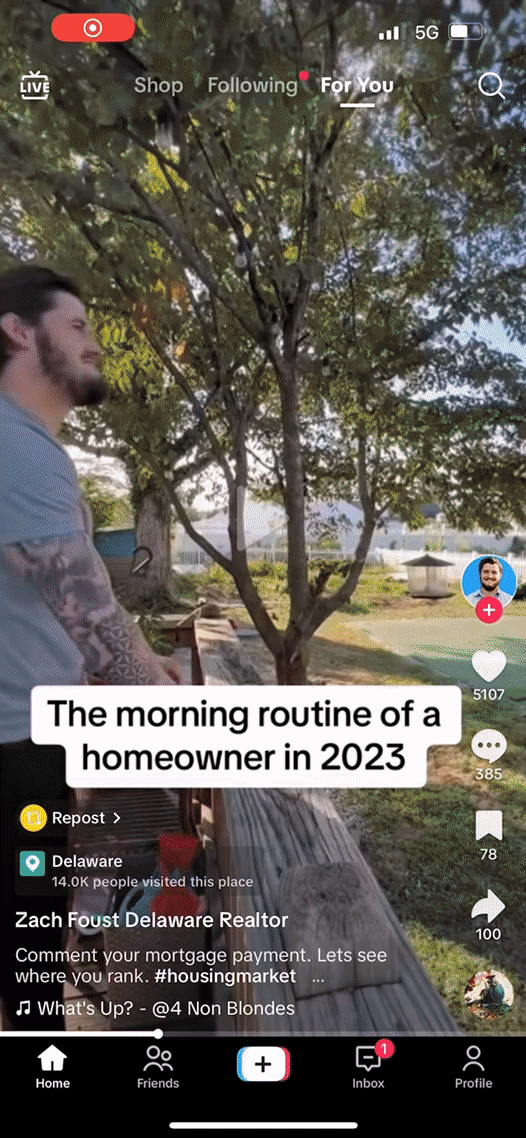 3. At the bottom of the Camera screen are two options: Camera and Templates. Templates are a unique way to share a group of photos in a TikTok.
4. To the left of the record button is Effects. These are filters that will change the look of your video in numerous interesting ways. Try some out -- but be warned, they aren't all a good fit for a professional TikTok.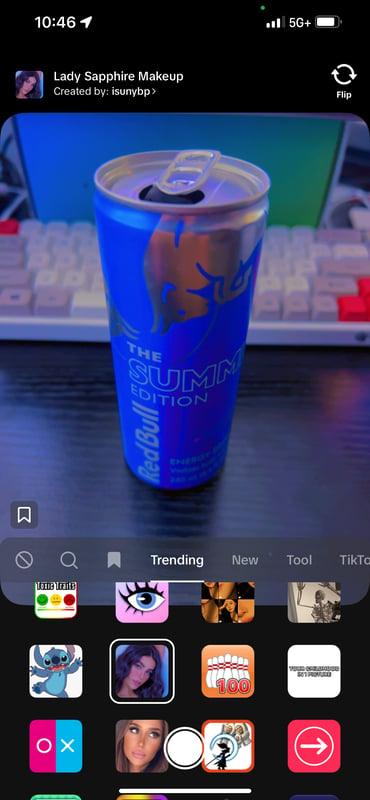 Sound
Sound is pretty unique on TikTok. There are plenty of options.
Of course you could choose to just have you speaking into the camera, but you can jazz it up a bit too.
Here's how you can add different audio and sounds to your TikToks:
1. To add either music or other sound to your TikTok, tap "Add Sound" at the top of the Camera Mode screen.
2. Here you can search for either sound effects or music to go with your TikTok. Be creative! There's lot of potential here.
3. If you want, you can scroll down to the playlists to choose popular music or songs that are viral on TikTok.
4. Find a song or sound you think you like? Tap the flag icon to save it for future use.
5. When you've found a sound or song you like, tap it. Now you can use the scissors to edit the length of the audio clip, or add it directly into your video with the red check button.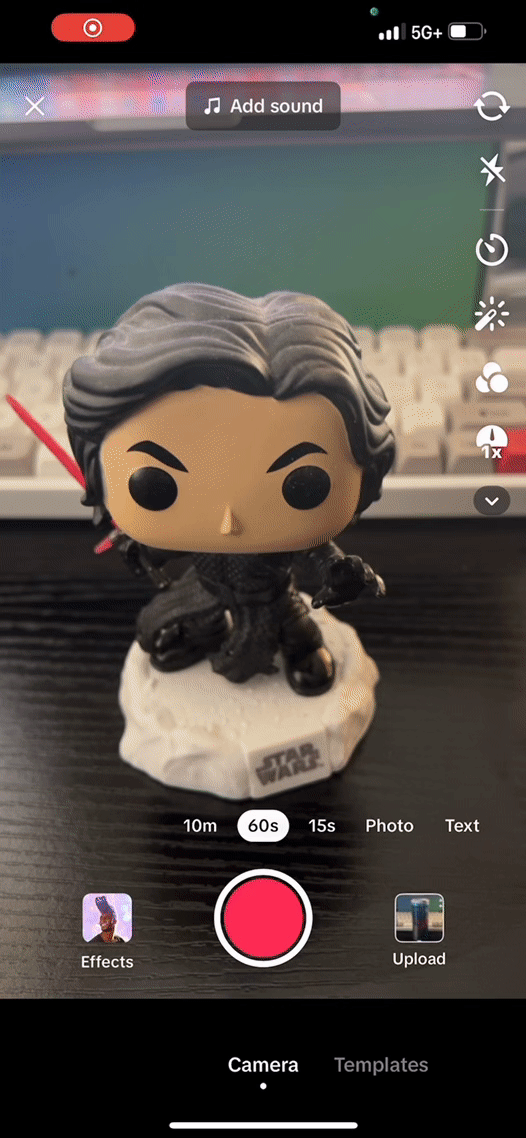 Uploading Photos or Video to TikTok
Now that you have the basics down, there are two ways to upload your video.
You can either record your video natively inside of TikTok using the TikTok camera feature, or you can record with your phone's camera app.
You can then upload it to TikTok by tapping the + button and selecting Upload.
Bonus Tips for Filming Your TikTok
Lighting
Good lighting is key. Natural lighting works best, but if you're indoors, ensure the light source is in front of you, not behind.
A window is usually the best bet for great lighting, but something as simple as standing under the shade of a tree at a park can also give you good lighting as well.
Background
A clean, uncluttered background looks professional. Use your office or a tidy space in your home.
But don't feel tied down in your background, either.
Many TikTok creators film their TikTok videos while on a walk at the park, in a parked car, or at the airport.
Anywhere that you can get a good clip with clean audio works.
7. Editing and Adding Text
TikTok offers a range of great editing tools to make your video just how you want it:
Trimming
Click the trim icon to any unwanted parts at the beginning or end.
(The icon is under the three overlapping circles icon in the GIF below)
This is really helpful if you have multiple smaller clips in your TikTok and want to tighten up those shots.
Editing out long pauses, you hitting record, or the pause at the beginning and end of your video is a good start.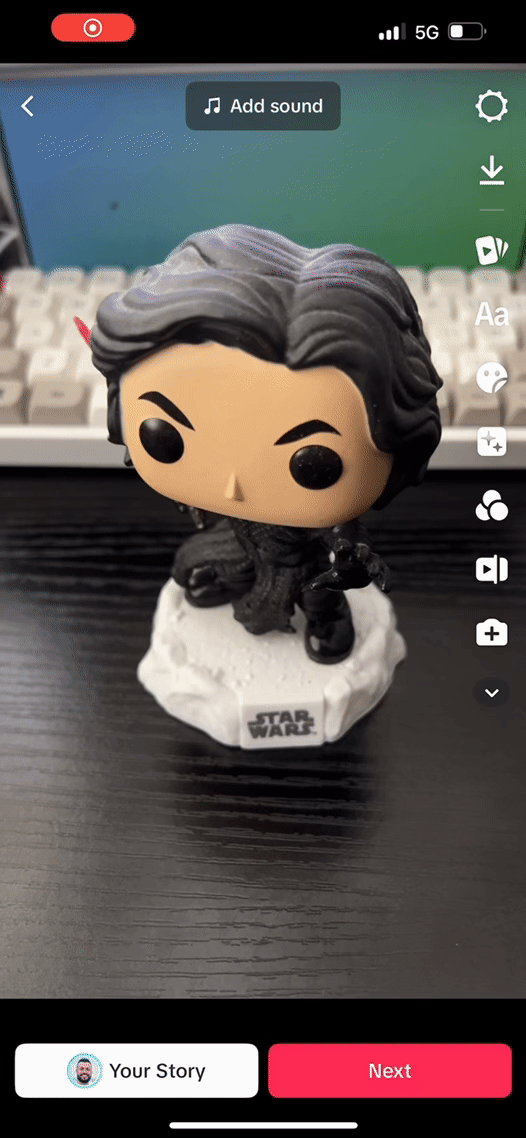 Add Text
Overlay text to highlight key points -- remember, it should be legible.
Try playing with different backgrounds, colors and placements to find what works best.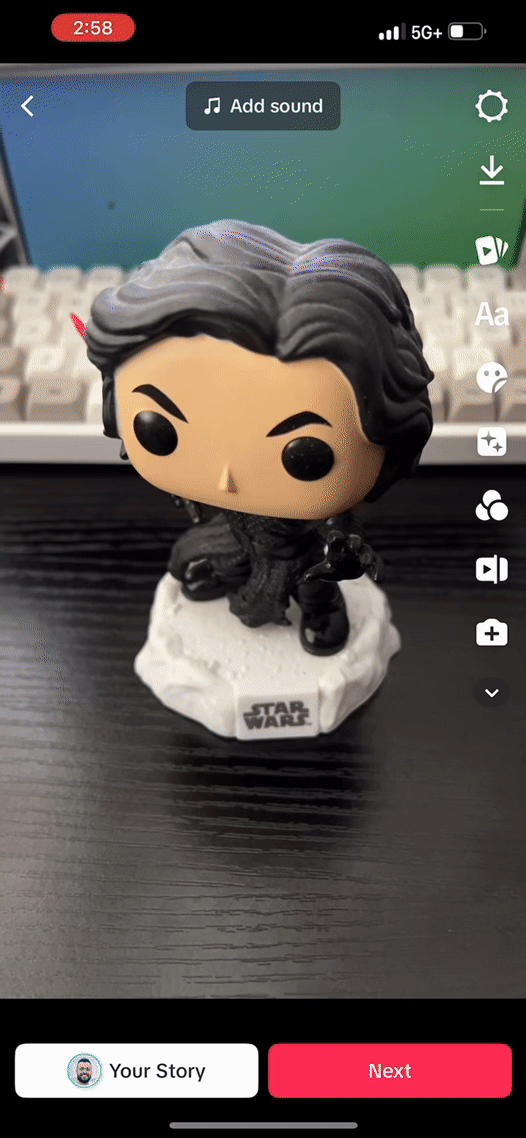 8. Writing a Great Caption
Before you post your TikTok, you'll want to create a caption. This caption will help you explain what your TikTok is about.
This caption will also help the TikTok to show up in TikTok search, so try to mention the topic your video is about.
For example, if your video is explaining what a down payment is, a good caption might be:
Mortgages Explained: What is a Down Payment?
Your caption should be concise and compelling.
Hashtags Explained
Relevant hashtags help to increase visibility on your video.
These should be specific to your video, so the more specific the better.
#mortgage is used millions of times, making its use a drop in an ocean of TikToks.
But if you are originating in Delaware, the more specific #delawaremortgage is a better hashtag.
Use SocialCoach to Generate Captions with AI
SocialCoach's AI makes writing captions for any social post easy. Click to learn more about how SocialCoach leverages AI
9. Posting Your Video
Once you're satisfied with your video, hit the "Post" button.
Ensure your privacy settings are set to "Public" so your video is discoverable.
10. Engage with Your Audience
If viewers comment on your video, engage with them.
Answer questions, thank them for their input, and be proactive in starting conversations.
SOCIALCOACH PRO TIP:
If you get a question in your comments, try responding to that comment with another video. On the comment, tap "Reply" and then tap the red camera button next to the reply box to reply with a video.
11. Analyze and Iterate
After posting a few videos, you'll start to get a feel for what works and what doesn't.
Use your TikTok's analytics to gauge their performance.
Learn from any patterns you observe to refine your content strategy.
Make TikTok Easy with Video Catalyst
Creating your own TikToks can be difficult.
But with Video Catalyst from SocialCoach, you can get 4 ready-to-film TikTok scripts delivered to you monthly.
Just film your video clips reading the scripts and send them back and SocialCoach's editors will send you ready-to-publish TikToks, complete with edits, captions and transitions to make it professional.
Click to learn more about how Video Catlayst can make your TikTok creation simple.
Conclusion
TikTok offers mortgage loan officers an exciting opportunity to connect with a wider audience in a creative manner.
With consistency, authenticity, and a keen understanding of your audience, you can use the platform to not only share valuable information but also to showcase your expertise and personality.